Technology is rapidly encroaching on many aspects of our existence, particularly our way of life. Humans have benefited greatly from the integration of technology into daily chores.
Smart home automation has proven to be one of the most popular breakthroughs, thanks to these advancements and continuously increasing technology.
Leads360.com takes a deeper look and provides more information on smart home automation systems in this blog.
What is a Smart Home Automation System, and how does it work?
Smart home automation technology is the name given to the technology utilized to automate your house. Smart home automation allows you to use the Internet of Things to control all parts of your house (internet of things).
Smart home automation technology has evolved through time, and its promise has yet to be realized. It may be used for various purposes, such as controlling appliances, managing home security, and even serving as a personal assistant, and the list goes on.
Smart home automation has become the world's fastest-growing technology, with its roots in creating thermostats and progressively expanding to include the entire house.
How Does a Smart Home Automation System Work?
The operation of smart home automation systems varies depending on where you are in the world. Every country and organization creates a smart home automation system to meet their requirements, and it functions appropriately.
The X10 industry standard was the first for smart home automation systems.
The x10 protocol was used to link devices through wire and radiofrequency. Z-Wave, Zigbee, and Insteon are now the most popular smart home automation protocols.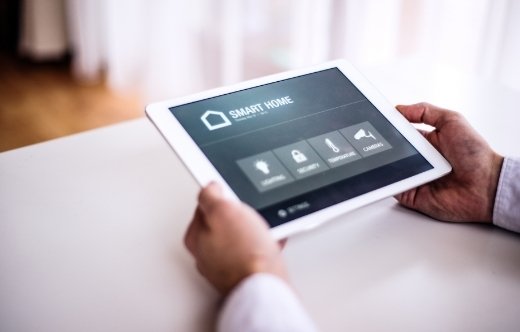 How to Use a Smart Home Automation System in Two Ways
System Central
The central system assumes responsibility as the primary source, allowing you to control everything. You may use this system to manage the thermostat, lighting, phone, dryer, and washer, among other things. This has been a game-changer and a widely utilized technology practically everywhere globally for individual households and companies.
The central system is the most often utilized smart home automation system for security. This system may be accessed from a computer, a smartphone, or a tablet, making it highly handy to use.
The Advantages and Disadvantages of a Central System
Although the central system is highly advantageous, it does have a few disadvantages that you should be aware of. Let's look at some of the advantages and disadvantages of a central system.
The system's advantages are undeniable; it allows you to control all parts of your home from a single device. You can operate anything from the central system, whether your home security system or your thermostat.
With all of these benefits comes the expense, which is one of the system's disadvantages. The central systems are costly, and expert installation will add to the expense.
It also requires expert maintenance from time to time, which may explain why it is quite costly.
Aside from that, a very limited number of devices can be linked to the central system, which may cause you to reconsider purchasing this system.
As a result, central systems are not very inclusive. For example, if you want to buy a new dryer, you'll need to hunt for one that can connect to the central system, as not all dryers will be suitable.
App-based System
By connecting your devices to WIFI, you can utilize app-based smart devices. Because your smart home gadgets are all linked to the internet, you can speak with them and assign tasks from anywhere.
Because they are so simple to use, app-based smart home automation systems are quite popular.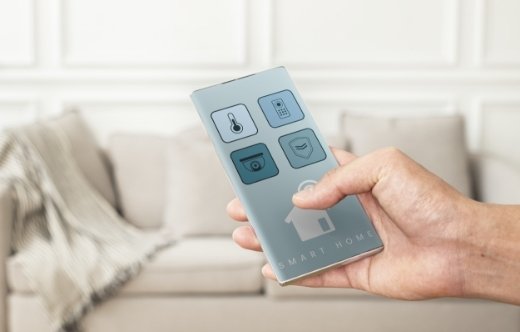 A Smart Home Automation System's Basics
The following are some essential appliances and functions connected to the smart home automation system. These are quite simple to set up and are also very inexpensive.
Smart Thermostats
Smart thermostats allow you to control your home's heating and cool anywhere.
The nice thing about smart thermostats is that they allow you to schedule when the system is turned on and off, preventing energy waste.
Thanks to advances in technology, some thermostats feature a sensor that detects when a temperature adjustment is required.
Smart Speakers
Smart speakers are capable of much more than simply playing music. They can look up music on the internet, give you weather updates, and offer you a news update; they operate as your assistant.
As a result, smart speakers serve as a central control point for your whole smart home system. You may ask Alexa or Siri to unlock the door or switch on or off the lights using smart speakers.
If you're thinking of getting smart speakers, double-check that the gadgets and speakers are compatible.
Light Automation
You don't want to get up and switch out the lights? Is it possible that the bulb is too bright? All of this is covered by smart home automation.
Light automation is a great function that comes in useful on days when you're hosting a dinner party, studying, or simply wanting to unwind.
Smart light switches may be controlled through an app and offer several illumination settings, including dimming and sharpness. Switching from normal to smart lights is a fantastic alternative.
Robotic vacuum cleaners
Robot vacuums serve an important part in making life easier, and they're simple to control with your smart devices. Apart from cleaning up any mess on the floor, most of these vacuums include an artificial intelligence component to transmit video and photographs to your mobile device.
The Advantages of a Smart Kitchen
Smart Refrigerators
There are many different types of smart refrigerators, each with its features. Smart refrigerators have your back if you can't keep track of when you're out of groceries.
They will notify you of any things you need to purchase or if you have mistakenly left the door open. Many smart refrigerators come with a monitor that can also transmit video.
Furthermore, some smart refrigerators provide you with two notification choices. Some units display all of the data on the unit, while others send it to an app on your phone.
Smart Ovens
You can operate your smart oven from anywhere if you have one installed in your house. You can quickly set the time and temperature for whichever food you wish to cook.
Alexa may also be used to operate smart ovens. If you don't have time to cook, throw the food in the oven, set the timing and temperature manually, and your meal will be cooked in no time!
Smart Dishwashers
Because the same firms make most smart dishwashers, ovens, and refrigerators, they all utilize the same applications.
Smart dishwashers are useful since they monitor the progress of the wash and alert you when the dishes are done. This makes life a lot easier and less stressful.
Smart Laundry
Dishwashers and dryers connected to the internet are comparable to smart dishwashers. You can check the laundry's progress, start or stop it, and even get a message when it's finished.
Smart Trash Cans
The best feature of smart garbage cans is that they are odor-controlling and touchless. There is also a barcode feature on these garbage cans. If you're tossing something out, all you have to do is scan the code, and it'll be instantly added to your shopping list.
Smart Fans
Smart fans, like thermostats, can be controlled from your phone; you can adjust the temperature, turn it on or off from anywhere, and recognize when to raise or lower the temperature.
Smart Floors
Smart flooring is temperature-controlled and that you can manage from your phone. Heated floors have a luxurious feel to them, and while there aren't many items on the market for them now, a few thermostats may assist you in regulating the floor heating system.
Sprinklers that are smart or automated
Having a beautiful lawn is something that everyone desires, but maintaining it is a challenge. Sprinklers controlled by a computer have made life much easier in this aspect. They're app-controlled, so you can easily establish a timetable for when to turn on and off the sprinklers from your phone.
Features of Smart Home Security
Installing a smart security system, whether for your company or your home, is a terrific way to provide that extra layer of protection to keep your area secure.
The following are some smart security features that can make a difference in protecting your house or office
Video Surveillance
With this technology, you can keep an eye on your home 24 hours a day, seven days a week. If you suspect a false alarm, video surveillance footage on your smart device might help you determine if it is a legitimate alert or not.
Automated Locks
If you're not sure whether or not you've locked the doors and windows, don't panic; automatic locks have your back. You can quickly control the locks from anywhere with your smart smartphone.
Sensors
Smart sensors are typically installed on your space's entrance points, such as doors or windows. They will alert you if someone has used your access point, and if video surveillance is placed at that location, you will be able to identify who it is.
Consider These Factors Before Installing a Smart Home System
After learning about the benefits of smart home systems, we must consider the considerations before implementing a smart home automation system in your house.
The following are some smart security features that can make a difference in protecting your house or office
Choose an Ecosystem
When you go shopping for your smart system, you need to find out which ecosystem best matches and works for you. Amazon Alexa, Google Nest, and Apple Home Kit are among the available solutions, and it's really simple to figure out which one to use.
If you have Apple devices such as an iPhone, iPad, or MacBook, the Apple home kit is the way to go, and if you have Android devices, Google Nest is the way to go.
If you pick one ecology rather than numerous, everything will run well.
Alexa is an Amazon virtual assistant
Unlike any other voice assistant, Amazon Alexa works with a wide range of devices. If you want to use Alexa on your smartphone, you'll need to download the app and open it before you can give her any commands.
Alexa can effortlessly carry out your orders, such as shutting off the lights or turning on the television.
Google Nest is a smart home device developed by Google
The voice assistant, Google Assistant, is intelligent enough to converse with you in a conversational tone and carry out your orders. Google Assistant is compatible with Android smartphones and replies to your questions quickly.
Apple Home Kit
For iPhone, iPad, and MacBook owners, the Apple Home Kit is a fantastic solution. Apple has a stringent policy about third-party control, and thus the apple home kit is exclusively available to Apple device users.
As a result, you won't be able to locate many gadgets that work with the home kit. This is the safest and most user-friendly platform, and it captures less data by default than others.
Wifi
Installing a smart home system needs a stable internet connection. Because both 2.4GHz and 5GHz offers rapid speeds, they are the most often utilized frequencies. Aside from that, the devices you purchase must support WIFI 6 or WIFI 6E.
When several devices are linked to a single WIFI network, the proliferation or congestion of WIFI signals can be a concern. This problem may be remedied by using an app to assess how busy your WIFI is.
Look for a convenient spot
You must choose a good location for smart home gadgets in your home, business, or wherever you want to put the system. The two most important considerations are a strong WIFI signal point and a power outlet.
Tips for Getting the Most Out of the Smart Automation System
You must select a suitable name for your system and stick to it. Only then will the system be able to interpret your voice instructions if they are clear and accurate.
If there are several items in the room, number them to make it easier for the smart device to comprehend. If you have three lights in a room, you can call them light 1, light 2, and light 3.
This allows you to quickly instruct your smart device without guessing which light has to be switched off.
Leads360.com's all-encompassing blog provides an excellent overview of smart home automation solutions. To make life easier and more convenient, you should seek the best technologies and goods that meet your needs and install a smart home automation system.