The location and surroundings of a real estate property are important factors to consider when determining the value of that property. Furthermore, the common spirit considers the property's location to be crucial to a successful real estate investment. This is why it requires special care.
Before developing a real estate project, an Environmental Impact Assessment (EIA) is a detailed report prepared to avoid environmental concerns. EIA is defined by the UNEP as a tool for identifying environmental, social, and economic implications prior to making a decision. The use of EIA can result in social and economic advantages, such as reduced project cost and time. The Environmental Protection Ordinance of 1983 was the first to implement EIA in Pakistan. Succinctly summarized, EIA is a technique for identifying and evaluating the environmental consequences of human activities. It employs a variety of analytical techniques and inter-disciplinary approaches, depending on the nature of the problem. EIA should be considered a necessary component of project planning, and its expenses should be factored into the equation. The outcomes of such assessments should be taken into account in policy and decision-making, as well as in the project's final decisions.
EIA's Fundamental Components
The first process in the EIA process is screening, which determines if a project requires a full or partial impact assessment. The second process is 'Scoping,' which involves identifying the factors that will be used to investigate the project's possible implications based on local and international legislation, expert knowledge, and public opinion. It also aids in the identification of solutions for mitigating or compensating for negative impacts on biodiversity, as well as the development of terms of reference for the impact assessment. The 'Terms of Reference' are then created in order to forecast and identify the potential environmental implications of a proposed project. After that, an Environmental Impact Statement (EIS) or EIA Report is issued, which includes an environmental management plan (EMP) and a non-technical summary for the general public. Based on the terms of reference (scoping) and public (including authority) engagement, the EIA report can be forwarded for evaluation. The ultimate decision on whether or not to approve the project is made after meticulous monitoring and evaluation of all potential outcomes and tactics.
The Importance of EIA in the Real Estate Sector
The primary goal of an Environmental Impact Assessment is to offer information on a new project, program, strategy, or policy. EIA provides a thorough technical assessment of a project's potential environmental consequences. The consolidated report describes the project's location, environmental effect, social impact, and potential solutions to environmental concerns. Environmental impact assessment methodologies can be used by project developers and administrative agencies to improve the quality of project planning and decision-making by detecting potential impacts early in the development process. Real estate is Pakistan's second-largest industry, and it contributes considerably to carbon emissions. The yearly energy consumption of the real estate sector accounts for 40% of total worldwide energy consumption. It accounts for around 20% of global greenhouse gas emissions. Real estate carbon emissions are also expected to grow by 56% by 2030.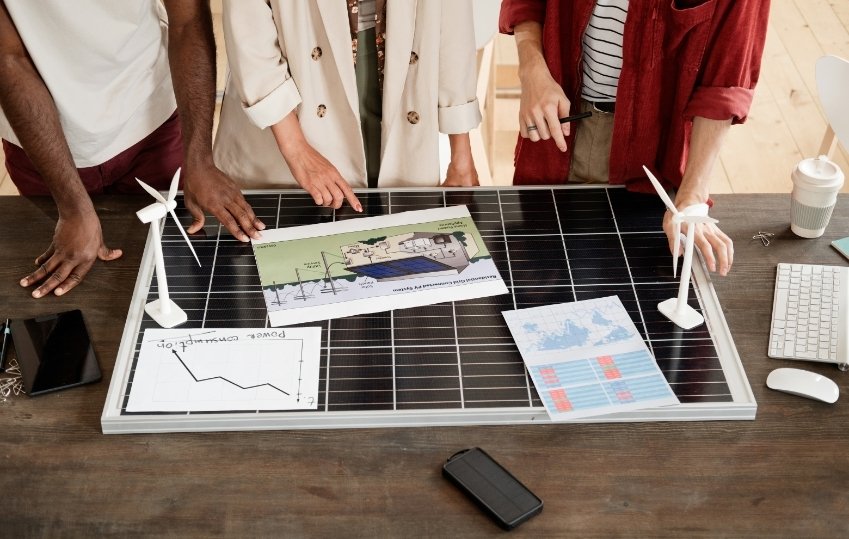 Other natural resources are significantly impacted by real estate. Buildings, for example, consume a significant amount of freshwater globally and create trash as a result. The International Energy Agency (IEA) estimates that reducing CO2 emissions by 50% and indirect construction sector emissions by 60% by 2030 is necessary to achieve net-zero carbon building stock by 2050. This indicates that construction emissions must decline by 6% every year until 2030 to meet this target. In the future, socioeconomic variables will make the environmental effect of real estate increasingly significant. The world's population is predicted to surpass 8 billion by 2030, with metropolitan regions housing 60% of the people. It is important to maintain global warming below 2 degrees Celsius in order to meet the objectives set by the UN Climate Change Conference (COP26). As a result of the environmental imprint that developments are expected to leave, the real estate sector demands severe goals. This emphasizes the significance of EIAs as part of a project's development and planning expenses.
Land contamination, waste disposal, water pollution, the development of housing societies on agricultural land, the erosion of green spaces, and carbon emissions are only a few examples of environmental challenges in real estate. Environmental Impact Assessment Reports can assist in identifying potential hazards and liabilities connected with a property. Prior to the transfer of property, the availability of an environmental assessment can uncover possible difficulties and assist investors in assessing responsibility, costs, and management challenges. Furthermore, EIAs can assist in determining the likelihood and magnitude of a site problem, potential financial liability, future assessment expenses, and the potential influence on property value.
In the future, full disclosure of environmental, health, and safety issues before purchasing a property will be a significant component of due diligence requirements. An effective EIA presents alternatives and mitigation methods to decrease the environmental impact of a proposed project. The EIA process encourages and allows for proper public engagement and transparency. However, environmental repercussions in Pakistan can be revealed through an EIA, but the procedure does not ensure modification or rejection owing to a variety of social and political variables.
Pakistan is a major supporter of the United Nations' Agenda 2030, and the government is committed to environmental action. EIA is governed in Pakistan by the Environmental Protection Ordinance of 1983, and the EIA Process is created by the Pakistan Environmental Protection Act of 1997. Despite its legal foundation, the notion of environmental impact assessment has not gained popularity in Pakistan. Because of the real estate industry's environmental imprint, the EIA will likely become a required document for the appraisal and due diligence of real estate projects in the future. The EIA process confronts a number of issues, including insufficient integration into the decision-making process, lack of implementation of EIA reports, incomplete impact coverage, low quality reports and reviews, and poor mitigation measure implementation.
The real estate industry has the potential to address a variety of global concerns, including climate change, the economic crisis caused by the COVID 19 epidemic, improved living circumstances, and the development of sustainable cities. Furthermore, environmental impact assessment may be used in the real estate industry to improve the quality of project planning and decision-making in the early phases of development. The awareness to do EIA studies on real estate developments will result in the establishment of a system to filter out and monitor the harmful environmental repercussions of building and development.